Drink for Africa: We Drink Because We Care
We Drink Because We Care
And we eat because everybody loves food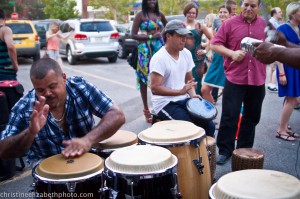 In Ilangere, South Sudan, volunteers are busy one afternoon. They set up ballot boxes. In anticipation of a record crowd, they move most of the furniture to the side. They set out the large, colorful bowls, filled to the brim with refreshments for the day: deliciously seasoned beans and fluffy rice.
In Omaha, Nebraska, volunteers are also busy. They unroll the projector screen, and set out the pamphlets. They plug in the microphone. Check, check. They set up the buffet; one mother has been cooking for nearly two days straight for this, so busy she almost forgot to eat.
In a few hours, both places will be teeming with people eager to learn. First, they'll enjoy a good meal with one another.
There's no denying the power of food, and how it brings us together. We bond on a night out, as we try the new restaurant in town. Talk of Netflix arises with the placement of a box of doughnuts down by the water cooler. While the nightly family dinner may be infrequent for some, many of us make it a point to share a meal with someone special on a daily basis.
Over a buffet of rich stews ranging in color from deep red, to green, to brown, people talk of change. They talk of progress, and compassion. They discuss East Africa, and the advancements from within.
But this isn't Ethiopia, where Doro Wet, the spicy chicken stew, has its origins. This is the American Midwest.
More specifically, this is a Drink for Africa event, hosted by Aqua-Africa. As a major platform to disseminate information about the cause, each event has raised thousands of dollars from hundreds of participants. But it isn't just about raising money – the prime focus of Drink for Africa is to raise awareness. So far, Aqua-Africa is bounding towards the goal, and the future looks even brighter.
The semiannual event is organized by a volunteer committee and made possible by generous donations of goods and services from throughout the community. A bar, a gallery, and a furniture studio have all hosted events since the series began in 2011. Local artists, such as muralist Gerard Pefung, enhance the experience with a showing of their work, and DJ Mammoth provides the soundtrack.
The cash donations go posthaste to Aqua-Africa's program of constructing water wells and empowering communities. It's encouraging to know we can make a sizable dent in the cost of bringing clean water to a village. It's inspiring to know we can spread the word with just our voices, amplified by the immense power of social media. It's comforting to know we can help change the outlook for residents in South Sudan over the enjoyment of a delicious meal surrounded by friends. The beer, donated by several local breweries, doesn't hurt either.
We are two continents, and one world. We are the supporters of Drink for Africa.
The next Drink for Africa event will take place on Saturday, June 8th, 7-11pm,, at Colley Studio, 2572 Harney Street. Stop by to learn more about how you can chip in your time or talent for the cause, and follow Aqua-Africa for up-to-date information.
Posted Under: News
Share on Facebook
Tweet this Page